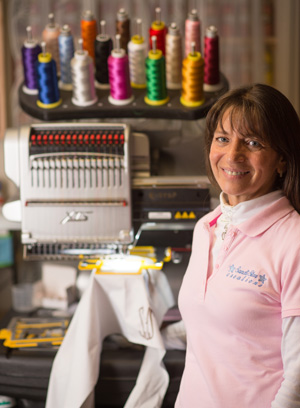 The Owner
It all began when I was a child. Like many young girls, I enjoyed shopping, new clothes, and trendy things. The problem was that I was very small and had difficulty finding clothes to fit. My Mother generously figured out how to make items similar to what I selected in the stores, in my size. She also made many beautiful things for our family and others as gifts. Yes, my Mother was my first inspiration.
When I was quite young, I followed her lead and began making my own things. Participating in groups like 4-H and taking many sewing classes in school, helped me to expand my knowledge and move forward.
As gift giving became my responsibility, I created one of kind items for family and friends, like my Mother. Further, I designed and made appropriately fitting garments for my daughter. Overtime, I have learned to make many original items. My skills have expanded from sewing to knitting, crocheting, weaving, hand embroidery, and most recent to machine embroidering on my own designs and readymade products.
SandiStar Creations
At Sandi Star Creations, you will find readymade items in a variety of collections that can be monogrammed to your specifications. You will also find my very own collection of handmade and embroidered inspirations, known as the Sandi Star Collection. Also there are monthly specials and lessons for making your very own trendy products.